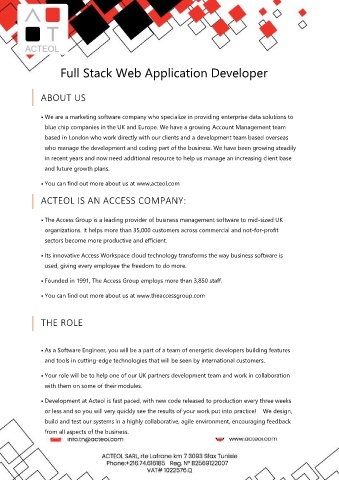 Full Stack Web Application Developer



               ABOUT US


               • We are a marketing software company who specialize in providing enterprise data solutions to
                 blue chip companies in the UK and Europe. We have a growing Account Management team
                 based in London who work directly with our clients and a development team based overseas

                 who manage the development and coding part of the business. We have been growing steadily
                 in recent years and now need additional resource to help us manage an increasing client base
                 and future growth plans.


               • You can find out more about us at www.acteol.com

               ACTEOL IS AN ACCESS COMPANY:


               • The Access Group is a leading provider of business management software to mid-sized UK

                 organizations. It helps more than 35,000 customers across commercial and not-for-profit
                 sectors become more productive and efficient.

               • Its innovative Access Workspace cloud technology transforms the way business software is
                 used, giving every employee the freedom to do more.


               • Founded in 1991, The Access Group employs more than 3,850 staff.

               • You can find out more about us at www.theaccessgroup.com



               THE ROLE



               • As a Software Engineer, you will be a part of a team of energetic developers building features
                 and tools in cutting-edge technologies that will be seen by international customers.

               • Your role will be to help one of our UK partners development team and work in collaboration

                 with them on some of their modules.

               • Development at Acteol is fast paced, with new code released to production every three weeks
                 or less and so you will very quickly see the results of your work put into practice!    We design,
                 build and test our systems in a highly collaborative, agile environment, encouraging feedback

                 from all aspects of the business.